October 4th, 2016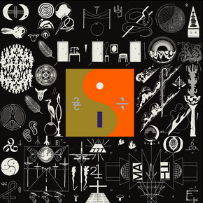 While it seems Bon Iver has been around for awhile, it may be surprising to realize 22 A Million is only the third album from Justin Vernon. From what started as a pastiche of instruments in a remote cabin in Wisconsin, we get the latest, which is far from the beginnings of this indie rock darling.
First off, my first listen was slightly upsetting. Not because of the content, but my distress at anything that fucks with the panning of my headphones. It makes my eyes water. More than a little unpleasant.
Getting over the technical tricks, the album is interesting. If you were a fan of Bon Iver's self-titled album, you can see where this album comes from. It would be wrong to say, however, that there isn't a step missing. As if this album should have had something in between it and the self-titled album to get a clear picture on where Justin and the gang are going.
There are a few standouts on this album. "715 - CRΣΣKS", a song that is for, all intents and purposes, acapella, in the vein of Imogen Heap's "Hide and Seek". "29 #Stafford APTS" is something that calls back to earlier efforts with quiet, folky guitar over some synth orchestrations. There are bonds to that old Bon Iver, but they are few.
Overall, the album seems experimental, or at least so for an established artist. The urgency isn't there where it might be for a fledgling band. There is a heavy synth influence, but that is pretty much what most alt rockers are going for in this space today.
For now, it's not like it's predecessors…but it's growing on me. Except that headphone panning thing. I don't like it.
RIYL: Bastille, Atlas Genius, The War on Drugs
---